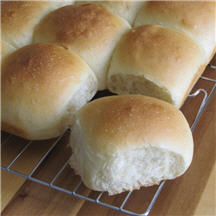 Best Butter Rolls Ever - This is my daughter Tiffany's recipe for her "family famous" butter rolls. They are simply the best homemade dinner rolls that I've ever eaten! I've lost count how many times I've heard others say the same thing about them...they are just that good!
Glazed Apple-Raisin Scones - A thin vanilla glaze adds just the right touch of sweetness to these scrumptious scones filled with pieces of tart green apple and plump golden raisins. They're perfect for an afternoon tea or a Sunday brunch.
Authentic New York-Style Homemade Bagels - This is how bagels are suppose taste, along with having the perfect texture you can only get from a "boiled-first and then baked" bagel. You'll never be content eating another mass-produced commercial bagel again.