Cream Puffs with Variations - My favorite variation for a cream puff is one filled with real sweetened whipped cream and topped with a rich chocolate icing.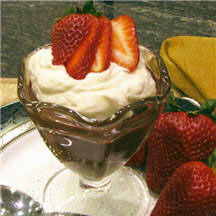 Easy Chocolate Mousse - This 'blender version' is absolutely the easiest chocolate mousse you'll ever make...and it is just as delicious as it is easy!
Hope's Apple Crisp - Not only is homemade apple crisp easy to make, it's delicious and nutritious!