Search for recipes throughout the entire site or select one of the recipe collections from the drop-down menu on the search tool below: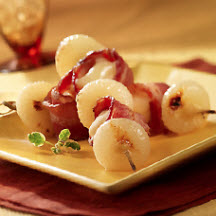 Grilled appetizer skewers of cipollini onions and bacon-wrapped cubes of cheese. Recipe by Chef John Caputo.
Bacon-Wrapped Menage with
Honey Glazed Cipollini Onion Skewers
12 small whole cipollini onions, peeled
1/2 cup honey
1/4 cup apple cider vinegar
1/4 cup water
8 (1-inch) cubes Wisconsin Carr Valley Menage cheese
4 strips bacon, precooked, but not until crisp, halved
For Onions: Place onions, honey, apple cider vinegar and water in small saucepan. Bring to a boil; reduce heat to simmer and cook 10 to 15 minutes or until onions are tender. Cool in liquid.
For Skewers: Wrap each piece of cheese with bacon, securing the bacon with toothpicks. Skewer the onions and cheese alternately on 4 (4 to 5-inches long) thin skewers, with the exposed side of cheese next to the onions.\
Final Preparation: Heat grill to high heat. Place skewers on grill. Grill on each side for approximately 2 minutes, turning to make sure all sides of bacon are grilled. Remove toothpicks. Serve immediately.
Makes 4 servings.
Recipe and photograph provided courtesy of Wisconsin Milk Marketing Board, Inc.
Recipe Reviews:
Rate and submit your comments about this recipe below.