Broccoli Bacon Portabella Stuffers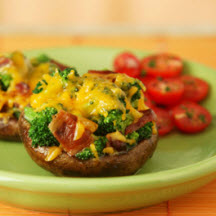 Recipe courtesy of the Mushroom Council.
Recipe Ingredients:
8 small or 4 large (7 to 8 ounces each) portabella mushroom caps
3 cups broccoli florets (about 8-ounce)
4 slices bacon
2 cups shredded cheddar cheese (about 4-ounce)
Cooking Directions:
In a medium size saucepan, over high heat, bring 1 quart salted water to a boil; reduce heat, add broccoli and simmer until crisp-tender, 3 to 4 minutes; drain.
In a large (12-inch) skillet, over medium heat, cook bacon until crisp, about 8 minutes; drain on paper towels.
Drain excess bacon fat from skillet. Add mushrooms, gill side down, and cook over medium heat for 5 minutes.
Remove skillet from heat; turn mushrooms. Sprinkle mushrooms with half the cheese, dividing evenly; spoon broccoli on top; crumble bacon over broccoli; sprinkle with the remaining cheese.
Return skillet to heat and continue to cook mushrooms, covered, just until tender and the cheese has melted, 4 to 5 minutes.
Makes 4 servings.
Recipe and photograph courtesy of the Mushroom Council.