"Inside-Out" Grilled Cheese with Red Onion Jam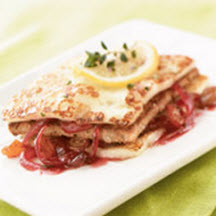 Chef Todd Downs takes the grilled cheese sandwich to soaring heights both in taste and presentation.
Recipe Ingredients:
Red Onion Jam:
2 red onions, peeled and cut in very thin, match-sized strips
1/4 cup vegetable oil
1/2 cup rice vinegar
1/4 cup grenadine syrup
Juice of 1 lemon
1/2 cup golden raisins
1 tablespoon fresh thyme leaves or 1/2 teaspoon dried
Freshly ground pepper, to taste
Sandwiches:
12 slices seeded, whole-grain bread, such as sunflower seed, 2 x 2-inches square and 1/8 inch thick, crusts removed
6 tablespoons butter, melted
24 slices queso blanco or queso blanco con frutas cheese, 2 x 2-inches square and 1/4 inch thick
Cooking Directions:
For the Red Onion Jam: Sauté the onions in the oil, cooking slowly until wilted, about 20 minutes. Do not brown. Add the remaining jam ingredients. Cook for about 20 minutes, until thickened.
For the Sandwiches: Brush the bread slices on both sides with the melted butter. Toast until golden brown.
Heat a large, nonstick skillet over medium-high heat. Lightly grill the cheese squares until golden brown on both sides.
Place twelve of the cheese squares on a cutting board. Top each with a teaspoon of red onion jam and then a slice of the toasted bread. Top the bread with another teaspoon of jam. Top each sandwich with a slice of the remaining cheese. Press the sandwich together.
If preparing ahead, warm the sandwiches in a 350ºF (175ºC) oven just before serving.
Makes 12 servings.
Recipe and photograph provided courtesy of Wisconsin Milk Marketing Board, Inc.