Teriyaki Salmon Skewers with Grapefruit - Colorful skewers of chunks of wild salmon, yellow bell pepper, zucchini, red onion, whole cherry tomatoes and slices of pink grapefruit baked and drizzled with a flavorful grapefruit-teriyaki sauce.
Sesame Ginger Roasted Halibut - Quick and easy! Halibut and pineapple slices are broiled, brushed with a bottled sesame ginger teriyaki sauce. The halibut is served topped with the grilled pineapple, which is chopped, and sliced green onion.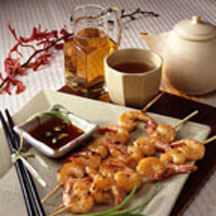 Asian Honey-Tea Grilled Prawns - Not only does pure honey enhance the flavor of marinades and sauces, but it is also naturally locks in moisture to keep grilled food juicy.