Honey Cherry Granola Bars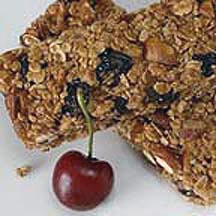 These wholesome granola bars pack a lot of energy and make a great tasting, quick breakfast-on-the-go or after-school snack.
Recipe Ingredients:
1/3 cup pure honey
1/4 cup butter, melted
3 large egg whites
1 teaspoon ground cinnamon
1/2 teaspoon almond flavoring
3 cups low-fat granola
1/2 cup almonds, coarsely chopped
3/4 cup dried cherries
Cooking Directions:
Preheat oven to 350°F (175°C). Grease a 9-inch square baking pan; set aside.
Whisk together honey, butter, egg whites, cinnamon and almond flavoring. Stir in granola, almonds and cherries.
Spoon granola mixture into prepared pan. Using a piece of waxed paper or plastic wrap, firmly press granola mixture in pan.
Bake 20 to 25 minutes or until lightly browned.
Cool in pan on a cooling rack; cut into bars.
Makes 12 to 16 bars.
Recipe and photgraph courtesy of the National Honey Board.