Frosted Brownies - Classic chocolate brownies with frosting. A good choice for bake sales, potlucks and casual entertaining.
Chewy Chocolate Brownies - Chocolate brownies are a welcome snack after a full day at school. Or treat the office to some homebaked goodies!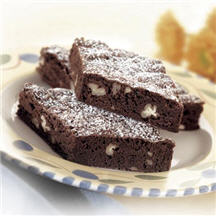 Chewy Cocoa Brownies - Moist and chewy, these brownies will be a hit whether as an afternoon snack or topped with ice cream and served as an after dinner dessert.