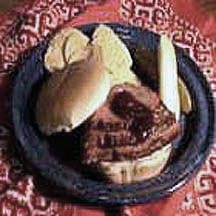 The name says it all when describing this brisket's preparation, yes...but you can believe it's as delicious as it is easy to fix, too!
Couldn't Be Easier Brisket
1 (3 to 4 pound) boneless beef brisket
1 bottle chili sauce
1 can cola (not diet or sugar-free)
1 packet dry onion soup mix
Preheat oven to 300°F (150°C).
Combine chili sauce, cola and soup mix.
Place brisket in a foil-lined baking pan. Pour sauce mixture over brisket and cover with another sheet of foil sealing edges.
Bake at 300°F for 3 to 3 1/2 hours until tender.
Carve brisket against the grain and serve the pan juices as a sauce.
Makes 6 servings.
Cook's Tip: Try using one of the commercially available "cooking bags" instead of the foil.
Recipe and photograph provided courtesy of Texas Beef Council and Beef It's Whats For Dinner.