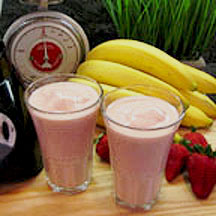 Fruit Smoothies - This fruit and yogurt smoothie is a wonderful way to start your day or simply serve as a healthy treat anytime. Be creative when making a smoothie, the combination of fruit flavors is limited only to your imagination.
Raspberry Lime Smoothie - Whirl fresh raspberries, frozen lime concentrate, vanilla yogurt and vanilla ice cream until smooth for a sweet-tart beverage that's a cross between a smoothie and a milkshake.
Peach Pie Smoothie - Try this simple and satisfying smoothie, a tasty twist on a classic that is a wholesome treat any time of day.