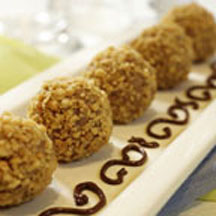 Peanutty Chocolate Truffles - The classic combination of chocolate and peanut butter is a taste that everyone loves. These delicious truffles will make any party a hit, but don't forget to make a few extra for yourself!
Tiger Butter - An easy candy to make that the whole family will enjoy! Mix peanut butter and semi-sweet chocolate morsels into a sweet treat. Recipe developed by Shirley Moore, Monroe, LA.
Frozen Butterfinger Cups - The perfect flavor and texture combination...peanut butter and chocolate with just the right amount of crunch.