Barbecue & Grilling Recipes
Fire up the grill! Anytime is a great time to cook great-tasting food outdoors!
Looking for recipes for outdoor cooking, barbecuing and grilling? Well then, get ready to tie on your apron and fire up the grill because this collection offers hundreds of recipes for a large variety of grilled and barbecued meats, fish and seafood, appetizers, breads, entrée salads, side dishes and even desserts!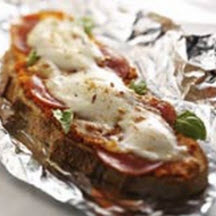 Grilled Pizza Sandwich
For the maximum flavor, use vine-ripened tomatoes in the sauce. For quicker and easier preparation, simply use your favorite ready-made marinara or pizza sauce.

Barbecue & Grilling Recipe Collections:
Meal Courses:
Beef:
Ground Meat & Sausage:
Chicken:
Fish & Seafood:
Lamb:
Pork:
Turkey:
Vegetarian: