About CooksRecipes.com
A cooking and recipe website online since 1999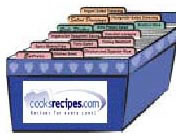 One of the first recipe sites on the Internet, CooksRecipes.com has provided free, quality recipes to literally millions of cooks around the world.
Founded on September 16, 1999, CooksRecipes.com has grown into one of the largest recipe and cooking resources on the Internet. The popular, user-friendly website was designed and built entirely by Hope Pryor, a home cook and self-taught web designer. Hope is also the author of nearly 300 recipes shared in the website's kitchen-tested collection of Family-Favorite Recipes. She manages the entire website by herself from her home office located in Brookings, Oregon, USA.
The top four priorities for the website are:
To provide quality, trustworthy recipes in a user-friendly, easy navigational format.

The never-ending growth of the site by the continual addition of new, quality recipes from reliable sources.

To regularly update the homepage with delicious recipe samplings from the various collections at the site.

And lastly -- but most importantly -- gaining your trust and readership by ever striving to provide some of the best content of its kind on the Internet.
Currently there are over 21,000 recipes at the site. All recipes are conveniently listed in alphabetical order, organized under a variety of popular meal courses, parts, holiday and specialty collections, all easily accessible throughout the entire site by just one to three clicks.
Enjoy your visit,
Hope Pryor
To contact Hope, please use the form below:
---