Cannoli Filled with Pistachio Ricotta - Tube-shaped shells of fried pastry dough, filled with a sweet creamy filling, cannoli originated in Sicily and are an essential part of Sicilian cuisine, as well as being very popular in Italian American cuisine.
Traditional-Style Tiramisu - Popularized by the movie 'Sleepless In Seattle,' this dessert has since become an all-American favorite. Easy to assemble, this version requires no cooking.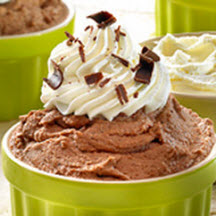 Mascarpone Espresso Mousse - Creamy, cinnamon-scented, melt-in-your-mouth espresso-flavored mousse -- quite simply heaven on a spoon!