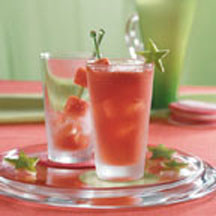 This summery blend of watermelon and lemon is perfect for any BBQ.
Watermelon Lemonade
7 cups cut-up watermelon cubes, seeded
1 cup fresh lemon juice
1 cup SPLENDA® No Calorie Sweetener, Granulated
Process watermelon cubes in a food processor, in batches if necessary, until smooth. Press mixture through a sieve into a pitcher; discard solids. (You should have about 3 cups watermelon juice.)
Add the lemon juice and SPLENDA® Granulated Sweetener or SPLENDA® Packets, stirring until SPLENDA® dissolves. Serve over ice.
Makes 5 servings.
Preparation Time: 15 Minutes
Total Time: 15 Minutes
Nutritional Information Per Serving (1/5 of recipe): Calories 100 | Calories from Fat 10 | Fat 1.0g (sat 0g) | Cholesterol 0mg | Sodium 5mg | Carbohydrates 24g | Fiber 1g | Sugars 20g | Protein 2g
Recipe and photograph courtesy of Splenda, Inc. Splenda® is a no-calorie sweetener made from sugar that is suitable for diabetics. For more information regarding this product, please call 1-800-777-5363 or visit their website at www.splenda.com.