Search for recipes throughout the entire site or select one of the recipe collections from the drop-down menu on the search tool below: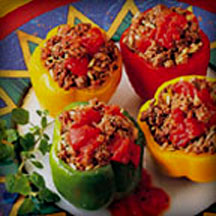 Old fashioned stuffed bell peppers are one of the comfort foods. So, when's the last time you tasted this colorful main dish of sweet peppers nice enough to share their flavor throughout the seasoned ground beef and rice filling? Maybe it's time to try this wholesome dish again.
Beef-Stuffed Peppers
1 pound ground beef
4 medium green, red or yellow bell peppers
3/4 cup chopped onion
1/4 cup uncooked regular white rice
3 tablespoons ketchup
1/2 teaspoon salt
1/2 teaspoon dried oregano
1/4 teaspoon pepper

Sauce:
1 (14 1/2-ounce) can Italian-style stewed tomatoes, undrained
1 tablespoon ketchup
1/2 teaspoon dried oregano
Heat oven to 350°F (175°C). Cut tops off bell peppers; remove seeds.
Combine ground beef, onion, rice, 3 tablespoons ketchup, salt, 1/2 teaspoon oregano and pepper in large bowl, mixing lightly but thoroughly. Spoon into peppers; stand peppers in 8 x 8-inch baking dish.
Combine sauce ingredients; pour over peppers. Cover dish tightly with aluminum foil.
Bake in 350°F (175°C) oven 1 1/2 hours to medium (160°F / 70°C) doneness, until beef is not pink in center and juices show no pink color.
Makes 4 servings.
Recipe and photograph provided courtesy of the Beef Industry Council.
Recipe Reviews:
Rate and submit your comments about this recipe below.