Peanut Butter & Celery Snacks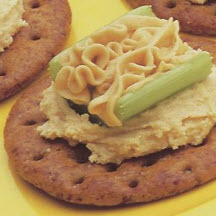 Peanut butter-stuffed celery sticks never tasted like these.
Recipe Ingredients:
4 stalks celery, sliced into 1-inch pieces
1 cup REESE'S Peanut Butter Chips
1 (8-ounce) container light cream cheese product, softened
1/4 cup nonfat milk
1/8 teaspoon bon appetit seasoning (or dash each of celery seed, onion powder and salt)
Snack crackers (optional)
Cooking Directions:
Prepare celery; refrigerate.
Place peanut butter chips in small microwave-safe bowl. Microwave at HIGH (100%) 30 seconds to 1 minute or until chips are melted when stirred; cool slightly.
Beat cream cheese product and milk in small bowl until fluffy; beat in melted chips and seasoning.
Place or pipe rounded teaspoon peanut butter chip mixture in hollow of each celery piece. Cover; refrigerate until ready to serve.
Spread 1/2 teaspoonful peanut butter mixture on snack crackers, if desired; place prepared celery pieces on top.
Makes about 2 1/2 dozen snacks.
Recipe and photograph courtesy of the Hershey Kitchens, and reprinted with permission of The Hershey Company. © The Hershey Company.