Bewitched Apple Cider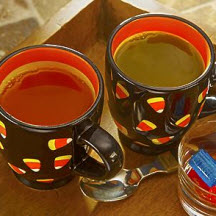 Fruit flavored hard candies are the secret flavoring ingredient for this Halloween brew.
Recipe Ingredients:
4 Assorted JOLLY RANCHER Original Hard Candies
16 fluid-ounces Apple cider (2 cups)
Cooking Directions:
Unwrap desired number of candies; place in microwave-safe glass measuring cup. Add just enough apple cider to cover candies. Microwave at HIGH (100%) 1 1/2 minutes; stir. If necessary, microwave at HIGH an additional minute at a time, stirring after each heating, until candies are dissolved when stirred.*
Add additional apple cider to make desired cup amount. Serve chilled or heat and serve hot. Garnish as desired.
Makes 2 (8-ounce) servings.
*Apple cider can also be made by adding candies to apple cider and allowing to sit 2 to 3 hours or until candy is dissolved.
Tip: Need more servings? For each cup of flavored apple cider you will need 2 JOLLY RANCHER Original Hard Candies.
Recipe and photograph courtesy of the Hershey Kitchens, and reprinted with permission of The Hershey Company. © The Hershey Company.