Mardi Gras Three Kings Cakes - The King Cake is the traditional Mardi Gras dessert. The three colors used to decorate the cake are symbolic to the festival: purple for justice, green for faith and gold for power.
French Market Beignets - Sip café au lait while enjoying a warm beignet, a traditional New Orleans deep-fried yeast pastry served with a generous dusting of powdered sugar.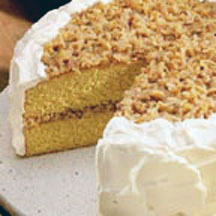 Mardi Gras Party Cake - Let the good times roll with this scrumptious butterscotch chip and coconut-filled cake with Seafoam Cream Frosting.