Ghostly Spirits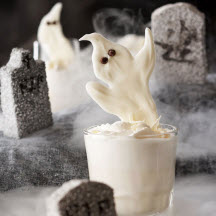 White chocolate apparitions haunt this chilling beverage. This spirited adults-only potion is shaken with ice to blend the vodka, white chocolate liqueur, milk, and whipping cream. Topped with a spritz of whipped cream and the ghostly garnish, the taste will haunt your party guests' dreams.
Recipe Ingredients:
1 1/4 cups whole milk
1/3 cup whipping cream
1/4 cup granulated sugar
2 teaspoons vanilla extract
3/4 cup vodka
2/3 cup white chocolate liqueur
Ice cubes
Pressurized whipped cream
White chocolate shavings and/or White Chocolate Ghosts* (optional)
Cooking Directions:
In a small pitcher or glass measure combine milk, whipping cream, sugar, and vanilla, stirring until sugar dissolves. Stir in vodka and liqueur. Cover and chill for 2 to 24 hours.
To serve, for each drink, put ice cubes into a cocktail shaker; add 1/3 to 1/2 cup of the milk mixture. Cover and shake; pour into glasses. Top with whipped cream. If desired, sprinkle with chocolate shavings and/or top with White Chocolate Ghosts.
Makes 6 (4-ounce) servings.
*White Chocolate Ghosts: Line a baking sheet with waxed paper; set aside. Coarsely chop desired amount of white chocolate (about 2 ounces). Place in a small microwave-safe bowl. Microwave on 100 percent power (high) about 1 minute or just until melted and smooth, stirring every 20 seconds. Place melted chocolate in a small resealable plastic bag; seal bag. Use kitchen scissors to snip a very small piece off one corner of the bag. Pipe small ghost shapes on prepared baking sheet. Add 2 miniature semisweet chocolate pieces to each ghost for eyes. Allow to stand until white chocolate sets. Peel off waxed paper.
Tip: If you're in a time crunch, substitute ghost-shape marshmallows or other ghost-shape candies for the garnish.
Nutritional Information Per Serving (1/6 of recipe): 276 kcal cal., 7 g fat (4 g sat. fat, 2 g monounsatured fat), 25 mg chol., 26 mg sodium, 21 g carb., 21 g sugar, 2 g protein.
Recipe and photograph provided by Better Homes and Gardens - BHG.com a member of the Home and Family Network for the best of cooking, gardening, decorating and more. © Meredith Corporation. All Rights Reserved.