Mr. Bones & Double Dips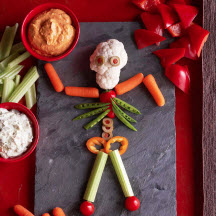 Dem bones, dem bones, dem tasty bones! Fresh vegetables form this colorful skeleton that will be the hit of the Halloween table. Smoky Red Pepper Dip and Creamy Avocado Dip encourage guests to pick away at these good-for-you bones. Make sure you have plenty of extra dippers. This skeleton is doomed to vanish quickly.
Recipe Ingredients:
1 cup bottled roasted red sweet peppers
1 canned chipotle pepper in adobo sauce
1 teaspoon chili powder
12 ounces reduced-fat cream cheese (Neufchatel), softened
2 tablespoons lime juice
Salt
Ground black pepper
4 ounces light sour cream
1 avocado
2 slices bacon or turkey bacon, crisp-cooked and finely crumbled
2 tablespoons snipped fresh cilantro
1/2 teaspoon ground cumin
6 cups desired fresh vegetables, such as celery sticks for legs, cauliflower florets for head, sugar snap pea pods for ribs, baby carrots for shoulders and arms, small red sweet peppers for chest, grape tomatoes for feet, pimiento-stuffed green olive slices for eyes and spine, half zucchini slices, and/or red sweet pepper pieces
Cooking Directions:
For Smoky Red Pepper Dip: In a blender or food processor combine roasted red peppers, chipotle pepper, and chili powder. Cover and blend or process until smooth. Add 8 ounces of the cream cheese and 1 tablespoon of the lime juice; cover and blend or process until smooth. Season to taste with salt and black pepper. Transfer smoky red pepper dip to a small bowl; cover and chill while preparing the creamy avocado dip.
For Creamy Avocado Dip: In a clean blender or food processor combine sour cream, the remaining 4 ounces cream cheese, and the remaining 1 tablespoon lime juice. Cover and blend or process until smooth. Transfer sour cream mixture to a medium bowl. Seed and peel avocado; place in a small bowl and mash with a fork. Stir into sour cream mixture. Stir in bacon, cilantro, and cumin. Season to taste with salt and black pepper. If desired, cover and chill for up to 1 hour before serving.
For veggie platter, in the center of a large serving platter create a skeleton shape with some of the fresh vegetables. Arrange extra vegetables around edge of platter. (If desired, you can arrange the veggie platter before preparing the dips; cover and chill for up to 4 hours.)
Serve veggie platter with smoky red pepper dip and creamy avocado dip.
Makes 12 servings; 2 cups red pepper dip; 1 1/2 cups avocado dip.
Recipe and photograph provided by Better Homes and Gardens - BHG.com a member of the Home and Family Network for the best of cooking, gardening, decorating and more. © Meredith Corporation. All Rights Reserved.