Italian & Mediterranean Recipes
Looking for Italian and Mediterranean dishes? You'll find some great ones here.
A comprehensive collection of recipes, derived from and rooted in Italian and Mediterranean cuisines, offering authentic Italian and Mediterranean-style foods from appetizers to desserts and every meal course and part in between.

Pasta alla Carbonara
This quick and fabulous dish makes a great "busy day" entree...but there are some rules to follow for making the delectable creamy sauce that enrobes the pasta.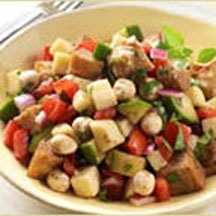 Panzanella - Italian Bread Salad
Panzanella, the classic Italian bread salad is at its best when fresh-from-the-garden, ripe tomatoes are used. Recipe by Chef Tim Tesch.

Italian & Mediterranean Recipe Collections: