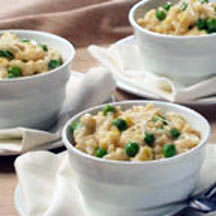 Simple Risotto with Peas & Parmesan - For a delicious change from ordinary everyday rice, try this wonderfully simple risotto dish. With a touch of lemon and fresh peas, this side dish will have your family asking for seconds.
Parmesan Pan-Fried Tomatoes - Breaded with crispy panko crumbs, seasonings and Parmesan cheese, these pan-fried tomatoes are terrific served alongside grilled or roast chicken or pork chops.
Italian Vegetable Creamy Fettuccine - This dish is full of delectable broccoli and other garden treats. Try this satisfying but not overly-rich dish for a change from meaty pasta combinations.