Beef Steak Soft Tacos - Boneless beef chuck steaks take a nice long soak in a marinade made with Italian dressing, fresh cilantro and chili powder, after which they are grilled to perfection, carved thin and served in warm flour tortillas with lettuce, tomato, salsa, sour cream and guacamole.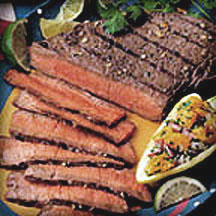 Margarita Beef with Orange Salsa - A lean cut, beef round steak takes a nice long, flavorful and tenderizing soak in a marinade of garlic, spices, undiluted orange juice concentrate, lime juice and tequila, is then grilled to perfection and served in thin slices with a refreshing orange salsa.
Fiesta Beef Ribeye Steaks - Beef ribeye or boneless top loin steak are sprinkled with fresh lime juice, seasoned, grilled to perfection and served topped with Monterey Jack cheese. Serve with warm flour tortillas and salsa.