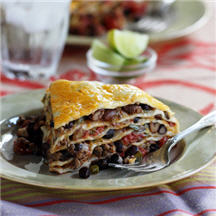 Slow Cooker Enchiladas - This enchilada recipe will become your new favorite "ready when you get home" meal! Layer ground beef, beans, tortillas and cheese in a slow cooker, turn on and you're done!
Tostados with Pork - This is fun for kids to fix---and eat! Pork is the meat of choice in Mexican dishes, so lean ground pork is perfect for this savory filling that makes a great tostado-topper, a taco-filler or as a filling for enchiladas.
Ground Beef Fajitas - Fajitas - fast as you can brown the ground beef, onion and bell pepper and stir in the ready-made salsa!