Very Cherry Pie - Dried cherries add their intense, sweet-tart flavor and additional texture to a traditional tart cherry pie filling. A pretty lattice top allows colorful evidence that something scrumptious is about to be served.
Easy as Bing Cherry Pie - There is such a thing as an easy cherry pie recipe, the California Cherry Advisory Board's 'Easy as Bing Cherry Pie' is as simple as it gets -- with foolproof, delicious results.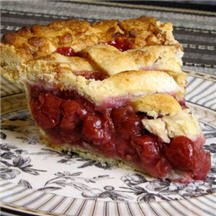 Cherry Pie - 'Can she bake a cherry pie Billy Boy, Billy Boy?' Yes she can with this easy and simply superb cherry pie recipe!