Lemon Meringue Pie - His Favorite! - Advance preparation is the key to success in making this pie, so be sure to have all ingredients pre-measured and ready to use. This is my hubby's favorite pie...hence the name!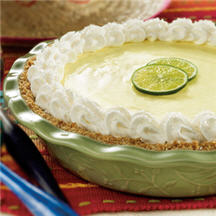 Margarita Pie - Make it a fiesta with this party-perfect margarita pie. Flavored with fresh limes and oranges (and an added splash of optional tequila), this refreshingly sweet filling is complemented by a salty pretzel crust.
No-Bake Lemon Cloud Pie - Try this delicious and refreshing no-bake pie. Lemon and whipped topping combined with sweetened condensed milk makes a quick and easy dessert.