Vidalia Onion and Gorgonzola Pizza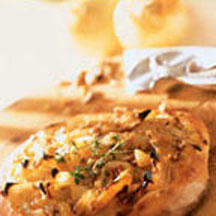 Caramelized Vidalia onions, mascarpone and gorgonzola cheese top a special pizza dough made with potato and a touch of honey. This recipe makes six (9-inch) pizzas.
Recipe Ingredients:
Pizza Dough:
1 large baking potato (about 3/4 pound), peeled and quartered
4 cups all-purpose flour - divided use
1 (0.25-ounce) package active dry yeast or 2 1/4 teaspoons
1 tablespoon honey
11/2 teaspoons salt
1 teaspoon olive oil
3 tablespoons cornmeal
Toppings:
12 large Vidalia or other sweet onions, peeled (about 6 pounds)
2 tablespoons extra-virgin olive oil
1/2 teaspoon salt
1/4 teaspoon freshly ground black pepper
1/2 cup mascarpone cheese
1 cup (6 ounces) crumbled Gorgonzola cheese
6 tablespoons coarsely chopped pecans
Cooking Directions:
For the pizza dough, cook the potato in 2 cups of boiling water for 20 minutes or until very tender. Drain, reserving 1 cup of cooking liquid. Let the cooking liquid cool until very warm (120° to 130°F) (50° to 55°C). Mash the potato, reserving 1 cup. Combine 1/2 cup of flour and the yeast in a large bowl; stir well. Combine the reserved mashed potato, reserved (very warm) cooking liquid, and honey; stir into the yeast mixture. Let stand 10 minutes.
Place 3 1/2 cups of flour and the salt in a food processor, and pulse 2 to 3 times. With the processor on, add the potato-yeast mixture and oil through the food chute; process until the dough leaves the sides of the bowl and forms a ball. Process 20 additional seconds. Place the dough in a large bowl coated with cooking spray, turning to coat the top. Cover and let rise in a warm place, free from drafts, for 1 hour or until doubled in bulk.
Punch the dough down, and turn out onto a lightly floured surface; knead 3 or 4 times. With floured hands, divide the dough into 6 portions; form each into a ball (the dough will be sticky). Cover the dough; let rest 15 minutes. Pat each ball into a 9-inch circle on large baking sheets sprinkled with the cornmeal.
For the toppings and assembly, preheat the oven to 350°F (175°C).
Cut each onion into 6 wedges, leaving the root end intact. Combine the onions, oil, salt, and pepper in a bowl; toss well. Divide evenly between two large casserole dishes. Cover and bake for 45 minutes. Uncover and bake an additional hour or until the onions are caramelized; let cool.
Raise the oven temperature to 500°F (260°C).
Spread about 1 tablespoon mascarpone cheese over each prepared pizza crust. Top each crust with one-sixth of the caramelized onions. Sprinkle about 2 tablespoons of Gorgonzola cheese and 1 tablespoon of pecans over each pizza. Bake for 8 minutes or until the crusts are crisp and the cheese melts.
Makes 6 (9-inch) pizzas.
Recipe and photograph provided courtesy of Wisconsin Milk Marketing Board, Inc.