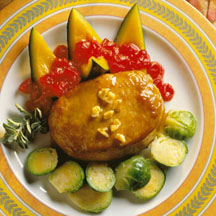 Mustard-Bourbon Pork Chops - When corn and tomatoes are in season, fire up the grill for a perfect summer's evening meal. Serve with buttered corn on the cob, sliced tomatoes with snipped chives, green beans vinaigrette and warm dinner rolls.
Maple-Mustard Glazed Pork Chops - This maple-mustard glaze pairs perfectly with pork on the grill. Add grilled winter squash or sweet potatoes to the menu and use the same glaze as a finishing touch.
Peachy Mustard Pork Chops - Serve these sweet and tangy chops with grilled red onions, mashed sweet potatoes, sliced tomatoes and cucumbers.