Poppy Chops - Make guests think that you slaved over these breaded chops. This 'No Recipe' recipe contest honorable mention recipe from Gerry Holcomb uses a package of cornbread stuffing mix as a shortcut to great taste. Serve with steamed broccoli and roasted potato wedges.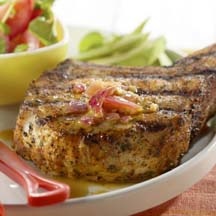 Bring on the "Mojo" Pork Chops - Guy Fieri, celebrity chef and television personality, creates a chop recipe for summertime entertaining. Do not let the ingredients fool you. This quick marinated recipe is a great way to enjoy your backyard grill.
Pan-Seared Chops with Pear and Soy-Ginger Glaze - This one-skillet dish is a perfect pairing of pork and braised fruit, with a hint of soy sauce and a pinch of cayenne. Apples, such as Golden Delicious, can be substituted for the pears.