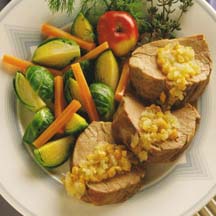 Applesauce-Stuffed Tenderloin - Fennel and peanut-studded applesauce makes an unusual but pleasing filling for these roasted tenderloins. Serve with red cabbage slaw, mashed potatoes and crusty French rolls.
Herb-Stuffed Pork Tenderloin - A simply elegant—but easy—braised dish featuring tender pork and dried apricots. Serve with rice or noodles to soak up the sauce, and a tossed green salad.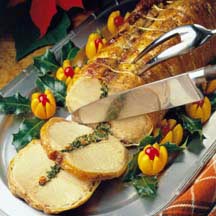 Spinach-Stuffed Pork Roast- Elegant enough for a festive dinner, this roast reveals its colorful stuffing when sliced. Roast potato wedges with the pork and serve with a colorful salad.