Beef & Pumpkin Shepherd's Pie - Traditional shepherd's pie gets a pumpkin make-over! This beloved recipe has added the delicious taste and nutritional value of pumpkin, making it a hearty and nourishing dinner that's perfect for weeknights in.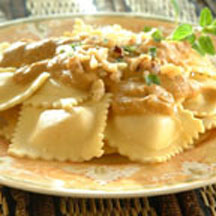 Cheese Ravioli with Pumpkin Sauce - As delicious and almost as easy as your traditional mac and cheese! The difference? An additional touch of nutritious vegetables mixed in a variety of melted cheeses.
Easy Pumpkin-Pasta Bake
- Cooking savory dishes with pumpkin is something the Italians have been doing for a long time! The added pumpkin in this tasty recipe provides an excellent source of vitamin A and fiber.