Roast Carrots with Shallots and Thyme - Roasting is not only one of the easiest methods for preparing vegetables, it is one of the tastiest because natural sugars within vegetables, especially carrots, caramelize on the outside for incredible flavor that cannot be beat.
Roasted Asparagus with Pesto & Lemon - This delicious roasted asparagus recipe is ready in less than 30 minutes and is a perfect side dish for most any meal. It is bursting with flavors. Add shredded Parmesan cheese for an elegant and tasty final touch.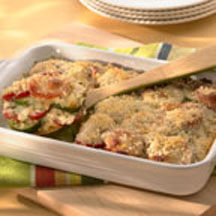 Zucchini, Tomato and Provolone Bake - This delicious, low-sodium side dish can also be served as a light, meatless main dish. Also, this is a great dish to use up that wonderful summer garden bounty!