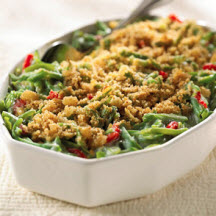 Green Bean Casserole - Bread crumbs with tender, sweet onion top this reduced-calorie version of the classic green bean casserole.
Heartland Vegetable Bake - This colorful vegetable medley, combined with a low-fat cream sauce, will brighten any dinner table.
Corn and Lima Bean Pudding - This delicious casserole, with vegetables baked in a nutmeg-scented egg custard, is a Brazilian favorite.