Onion Soup with Two Cheeses - Two Italian cheeses add their own unique and doubly good twist of flavors to this otherwise classic French onion soup. The process of caramelizing the onions should not be rushed, patience has it's reward in the end...slower is much better for optimum taste!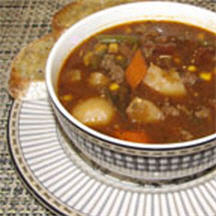 Easy Hamburger Vegetable Soup - Economical, quick and easy, this wholesome and delicious soup is a satisfying meal in a bowl. Serve with hot cornbread or crusty bread rolls to round out the meal.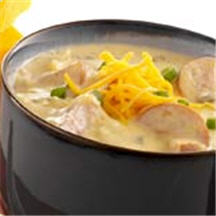 Cheddary Beer Soup - This hearty cream soup is brimming with a multiplicity of complimentary flavors such as cheddar cheese, beer, cabbage and smoked sausage. Recipe by Chef Thomas Catherall, C.M.C.