Red, White and Bean Minestrone - This colorful cannellini, red kidney bean and Italian minestrone soup is fantastic topped with a little pesto and freshly grated Parmesan.
Maggi Onion Soup - This simple onion soup recipe has mouth watering flavors of sautéed onions and sherry and is a great start to any meal.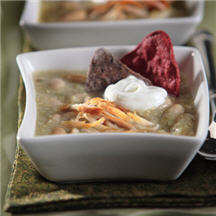 Southwestern Chicken Soup - This thick and hearty soup brings home zesty southwest flavor and adds a hint of heat that is perfect for a cold winter's night.