Black-Eyed Peas & California Walnut Lettuce Wraps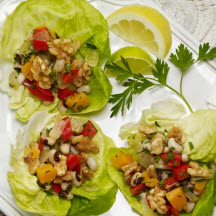 Dip these delectable wraps into your favorite sauce for an Asian-inspired appetizer.
Recipe Ingredients:
2 cups frozen black-eyed peas
3/4 cup water
1 onion, chopped
1 red pepper, seeded and chopped
1 cup diced butternut squash
1/2 cup chopped California Walnuts
1/4 cup sherry vinegar or wine vinegar
1/4 cup chopped parsley
Salt and ground black pepper, to taste
1 head Boston lettuce (16 leaves)
Cooking Directions:
In medium saucepan, add peas and water. Bring to boil over high heat; reduce heat and simmer, covered, about 30 minutes or until peas are just tender. Drain any remaining liquid and transfer peas to a large bowl.
Coat large nonstick skillet with cooking spray; sauté onion, pepper and squash over medium to high heat, stirring occasionally, 5 minutes. Reduce to low heat, cover and cook 5 to 7 minutes or until squash is just tender.
Stir in walnuts.
Add walnut mixture, vinegar and parsley to peas; stir to combine. Season with salt and pepper. Let cool slightly.
Spoon 1/4 cup of the mixture into each lettuce leaf. Fold the leaves in half over the filling and roll.
Makes 4 servings (4 wraps per serving).
Nutritional Information Per Serving: 253 calories, 10.7 g protein, 32.1 g carbohydrate, 8.4 g dietary fiber, 18 mg sodium, 11.0 g total fat, 7.7 gm polyunsaturated fatty acids, 1.1 gm saturated fatty acids, 0 mg cholesterol
Recipe and photograph provided courtesy California Walnuts.