California Raisin Peanut Butter Spread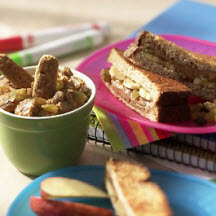 A healthy and tasty snack your children will love.
Recipe Ingredients:
3/4 cup California Raisins
1/2 cup apple juice
2 tablespoons honey
2 teaspoons ground cinnamon
1 cup creamy peanut butter
Cooking Directions:
Measure the raisins and apple juice into a small saucepan and bring to boil; reduce heat to medium and simmer for eight to 10 minutes or until raisins have absorbed all the juice. Stir in honey and cinnamon. Cool slightly. Stir in peanut butter.
Spread onto graham crackers, bread, mini-bagels, apple slices or celery sticks.
Makes 1 2/3 cups.
Variation: For a healthful variation on traditional PB&J sandwiches, spread one tablespoon of California Raisin Peanut Butter Spread on one slice of whole wheat bread. Top with 1/4 banana cut into nine very thin slices and top with another slice of bread. Lightly butter both sides and cook in a small, heavy skillet over medium heat until lightly browned on both sides and heated through. Cut into four sticks.
Nutritional Information Per Serving (1 tablespoon spread): Calories 80 (53 percent from fat); Total Fat 5g (sat 1g, trans 0g, mono 2g, poly 1g); Cholesterol 0mg; Protein 3g; Carbohydrate 7g; Fiber <1g; Iron <1mg; Sodium 0mg; Calcium 8mg.
Recipe and photograph provided courtesy of www.loveyourraisins.com, through ARAcontent