Shrimp and Scallop Kabobs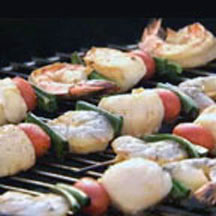 These shrimp and scallop kabobs pair perfectly with Pineapple Salsa. They're great served as an appetizer or an entrée, too!
Recipe Ingredients:
Bamboo Skewers
1 pound shrimp, cleaned, shelled and deveined
1 pound scallops, cleaned with muscle removed
1 bunch green onions, cut into 2 in long pieces
12 cherry tomatoes
1 piece fresh ginger, grated
3 tablespoons rice wine vinegar
3 tablespoons soy sauce
2 tablespoons sesame oil
2 tablespoons brown sugar, packed
2 cloves garlic, minced
Black pepper, to taste
1 lemon, cut into wedges
1 lime, cut into wedges
Cooking Directions:
Soak the bamboo skewers in water for at least 30 minutes.
Thread the shrimp, green onion, tomato and scallop, onto the skewers.
In a large bowl, mix together the ginger, rice wine vinegar, soy sauce, sesame oil, brown sugar, and garlic. Pour half of the mixture over the kabobs and marinate at room temperature for up to 8 hours. Reserve the other half of the mixture to baste the kabobs while grilling.
Prepare a charcoal grill to medium heat.
Place the skewers on the grill and season with fresh black pepper. Turn once and brush with the soy mixture.
Cook until opaque throughout, about 6 to 8 minutes. Take off of the grill and serve with lemon or lime wedges.
Makes ? servings.
Recipe provided courtesy of SummerKitchen.tv. Photograph property of CooksRecipes.com.