Beef Bourguignon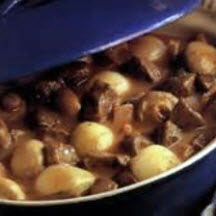 This version of beef bourguignon, an elegant beef stew, is made with both Cognac and Burgundy wine.
Recipe Ingredients:
1/2 pound bacon, coarsely chopped
3 pounds stewing beef, cut into 1 1/2-inch cubes
Salt and freshly ground pepper, to taste
1/3 cup all-purpose flour
1 1/4 pounds boiling onions, peeled
3/4 pound large carrots, peeled and cut into 1-inch pieces
12 large garlic cloves, peeled (left whole)
3 cups beef broth
1/2 cup Cognac or brandy
2 (750-ml) bottles Burgundy wine
1 1/4 pounds mushrooms
1/3 cup chopped fresh thyme or 2 tablespoons dried thyme
1 tablespoon packed dark brown sugar
1 tablespoon tomato paste
Cooking Directions:
Preheat oven to 325°F (160°C).
Sauté bacon in large Dutch oven over medium-high heat until crisp; transfer bacon to paper towels. Drain bacon drippings from pot, except for about 2 to 3 tablespoons.
Season beef generously with salt and pepper; coat with 1/3 cup flour. Working in 3 batches, brown beef in same pot over medium-high heat, add bacon drippings, as needed.Transfer meat to large bowl.
Add onions and carrots to same pot and sauté until golden brown. Add garlic and sauté 1 minute. Transfer vegetables to bowl with beef.
Add 1 cup broth and Cognac to pot; boil until reduced to glaze, scraping up browned bits, about 8 minutes.
Return meat, vegetables and their juices to pot. Add wine, mushrooms, thyme, sugar, tomato paste and 2 cups broth. Bring to boil, stirring occasionally. Cover pot and place in oven. Cook, about 1 1/2 hours, until meat is fork tender, removing cover last 30 minutes of cooking.
Makes 8 servings.