Beef Bourguignon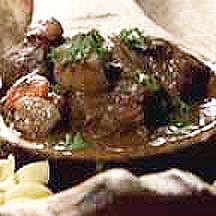 Beef bourguignon is beef slow cooked in Burgundy wine, in essence an elegant beef stew.
Recipe Ingredients:
4 to 5 slices bacon
1 pound quality beef, cubed
1/2 pound pearl onions
2 medium carrots,sliced
12 ounces of mushrooms, quartered
3/4 teaspoon marjoram
3/4 teaspoon thyme
4 tablespoons chopped parsley
4 cloves garlic, minced
1 bay leaf
3/4 cup Burgundy (red) wine
1 cup beef broth
2 tablespoons tomato paste
1/4 cup all-purpose flour
Cooking Directions:
Season a nice quality, cubed beef with salt and pepper
Add the seasoned beef to a medium glass bowl and add pearl onions, carrots, marjoram, thyme, parsley, garlic, bay leaf, red wine then stir and cover. Let this marinate for at least an hour in the refrigerator.
In a skillet cook, 4 to 5 slices of bacon and cut the bacon into pieces.
To the slow cooker add the meat mixture the bacon pieces, thyme, marjoram, mushrooms, red wine and beef broth.
Next add tomato paste.
Season with salt and pepper.
Stir everything together and then cover.
This stew can cook for between 4 and 8 hours depending on your schedule.
Towards the end of the cooking process Blend flour with beef stock from the pot to make a sluree. Then add it to the stew to thicken the sauce while the cooking finishes.
Makes 6 to 8 servings.
Recipe provided courtesy of HolidayKitchen.tv. Photograph property of CooksRecipes.com.