Beef with Black Beans and Vegetables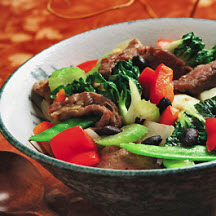 Recipe courtesy of CanolaInfo.org.
Recipe Ingredients:
1/2 teaspoon salt
1 teaspoon granulated sugar
1 clove garlic, minced
1 1/2 tablespoons oyster sauce
1 tablespoon Shoa Hsing rice cooking wine or dry sherry
1 teaspoon dark soy sauce
1/2 teaspoon sesame oil
1 1/2 teaspoons cornstarch
Pinch ground white pepper
8 ounces beef flank steak, thinly sliced across the grain
3 tablespoons canola oil
2 tablespoons finely chopped ginger - divided use
2 teaspoons minced garlic
2 tablespoons fermented black beans, rinsed and drained well
1 medium onion, cut into 1-inch dice
2 stalks celery, thinly sliced on the bias
4 ounces snow or sugar snap peas
2 cups Bok Choy or Napa cabbage, cut into 2-inch pieces
1 medium red pepper, cut into 1/2-inch dice
Cooking Directions:
In a mixing bowl combine salt, sugar, 1 clove garlic, 1 teaspoon minced ginger, oyster sauce, cooking rice wine, soy sauce, sesame oil, cornstarch and white pepper. Add beef and mix well. Allow to rest for at least 30 minutes
Heat a large flat bottom wok or skillet over high heat. Swirl in 1 1/2 tablespoon canola oil and add ginger; stir fry for 10 seconds Add garlic and black beans; stir fry for 1 minutes Add the beef and marinade, spread to a thin layer on the wok, cook for 30 seconds and stir fry for about 1 minutes until set but not cooked thoroughly. Remove from wok and set aside on a warm plate.
Add remaining oil to wok and add vegetables. Stir fry for 2 minutes or until slightly softened and return beef and juices to the wok. Stir fry until the beef is cooked to desired doneness. Transfer to a warm serving platter.
Makes 4 servings.
Nutritional Information Per Serving (1/4 of recipe): Calories: 160; Total Fat: 10g; Saturated Fat:2g; Cholesterol: 10mg; Total Carbs: 8g; Fiber: 2g; Protein: 10g; Sodium: 320mg.
Recipe and photograph courtesy of CanolaInfo.org.