Corned Beef with Apple-Onion Sauté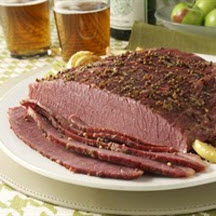 The flavors of the apple and onion compliment nicely with the fork-tender corned beef brisket. This recipe is an excellent source of protein, vitamin B12, selenium and zinc; and a good source of niacin, vitamin B6 and iron.
Recipe Ingredients:
1 (2 1/2 to 3 1/2-pound) boneless corned beef brisket with seasoning packet*
1 large onion, coarsely chopped
5 cloves garlic, coarsely chopped
1 1/2 cups apple cider or apple juice
Apple-Onion Sauté:
3 tablespoons butter - divided use
2 medium onions, cut into thin wedges
1 medium Granny Smith apple, cut into 1/4-inch thick slices
1 medium McIntosh apple, cut into 1/4-inch thick slices
1 medium Golden Delicious apple, cut into 1/4-inch thick slices
1/2 cup apple cider or apple juice
1 tablespoon brown sugar
1/2 teaspoon dried thyme leaves
Cooking Directions:
Preheat oven to 350°F (175°C).
Place corned beef brisket in roasting pan; place coarsely chopped onion and garlic around brisket. Sprinkle contents of seasoning packet over brisket. Add 1-1/2 cups cider; cover tightly with aluminum foil. Braise in 350°F (175°C) oven 2 1/2 to 3 1/2 hours or until brisket is fork-tender.
Meanwhile, prepare Apple-Onion Sauté. Melt 2 tablespoons butter in large nonstick skillet over medium heat. Add onion wedges; cook 13 to 15 minutes or until onions are lightly brown, stirring occasionally. Add apples, remaining 1 tablespoon butter, cider, brown sugar and thyme; cook and stir 6 to 8 minutes or until apples are crisp-tender.
Carve brisket diagonally across the grain into thin slices. Serve with Apple-Onion Sauté.
Makes 6 to 8 servings.
*If seasoning packet is not included with the corned beef, substitute 1 1/4 teaspoons pickling spice.
Nutritional Information Per Serving (1/6 of recipe): 375 calories; 22 g fat (9 g saturated fat; 9 g monounsaturated fat); 98 mg cholesterol; 977 mg sodium; 28 g carbohydrate; 2.6 g fiber; 16 g protein; 2.7 mg niacin; 0.3 mg vitamin B6; 1.4 mcg vitamin B12; 1.9 mg iron; 28.3 mcg selenium; 4.0 mg zinc.
Recipe and photograph provided courtesy of Beef, It's What's For Dinner©.