Herbed Tenderloin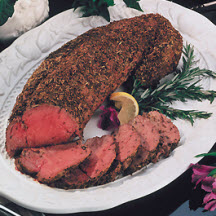 Recipe courtesy of Certified Angus Beef LLC.
Recipe Ingredients:
5 pounds Certified Angus Beef® peeled tenderloin, trimmed
1 tablespoon dried oregano leaves
1 tablespoon dried thyme
1 teaspoon coarsely ground black pepper
2 teaspoons crushed dried rosemary
2 teaspoons dry mustard
Cooking Directions:
Preheat oven to 425°F (220°C).
Place tenderloin on rack in shallow roasting pan. Combine remaining ingredients in bowl and mix until well blended. Rub into beef.
Bake beef at 425°F (220°C) for 10 minutes.
Reduce heat to 325°F (160°C) bake for an additional 40 to 45 minutes or until meat thermometer reaches 150°F (68.3°C) for medium-rare.
Remove from oven, cover with foil and rest 15 to 20 minutes before carving.
Makes 14 servings.
Recipe and photograph courtesy of Certified Angus Beef LLC.