Make-It-Easy Beef Pot Pie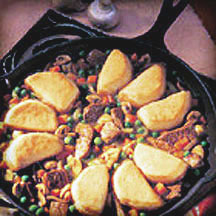 Beef pot pie made easy thanks to the convenient use of ready-to-use ingredients like a jar of beef gravy, frozen peas and carrots and refrigerated biscuits that replace the traditional pastry crust.
Recipe Ingredients:
1 pound boneless beef top sirloin steak, cut 3/4-inch thick
1 tablespoon vegetable oil
1/2 pound small mushrooms, quartered
1 medium onion, sliced
1 clove garlic, minced
1 (12-ounce) jar beef gravy
1 (10-ounce) package frozen peas and carrots
1/4 teaspoon dried thyme
1 (4.5-ounce) can refrigerated buttermilk-flavor biscuits
Seasoning:
2 teaspoons lemon pepper
2 cloves garlic, minced
1 teaspoon dried basil
Cooking Directions:
Preheat oven to 400°F (205°C).
Cut beef steak lengthwise in half, then crosswise into 1/4-inch thick strips.
Heat oil in large ovenproof skillet over medium-high heat until hot. Add 1/2 of beef; stir-fry 1 to 2 minutes or until outside surface of beef is no longer pink. Remove. Repeat with remaining beef.
Combine mushrooms, onion, 1/4 cup water and garlic in same skillet. Cook and stir 3 minutes or until onion is tender. Stir in gravy, vegetables and thyme; bring to a boil. Remove from heat; stir in beef.
Cut biscuits in half; arrange in a ring on top of beef mixture.
Bake for 12 to 14 minutes or until biscuits are golden brown.
Makes 6 servings.
Recipe and photograph provided courtesy of the Beef Industry Council.