Moroccan Rib Roast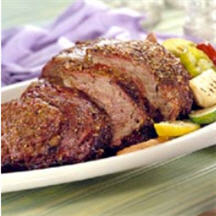 This delicious beef rib roast is infused with the delicious flavors of coriander, lemon, and cumin.
Recipe Ingredients:
2 tablespoons coriander seeds, crushed
2 tablespoons finely shredded lemon peel
1 tablespoon olive oil
1 teaspoon whole cumin seeds, crushed
1/2 to 1 teaspoon crushed red pepper
1/2 teaspoon coarse salt
1 (4 to 5-pound) beef rib roast
8 cloves garlic, peeled and cut into slivers
Assorted peeled and cut-up vegetables, such as carrots, turnips, and sweet peppers
Cooking Directions:
In a small bowl stir together coriander seeds, lemon peel, olive oil, cumin, red pepper, and salt. Rub surface of meat thoroughly with coriander mixture.
Cut 1/2-inch-wide slits randomly into top and sides of meat. Insert garlic slivers deep into slits. If desired, cover and chill meat for up to 24 hours.
Prepare grill for indirect grilling. Test for medium heat above the drip pan. Place meat on the lightly oiled grill rack over the drip pan.
Cover and grill for 1 1/2 to 2 hours or until an instant-read thermometer inserted into the center of the meat registers 155 degree F for medium doneness. Add assorted cut-up vegetables to grill during the last 45 minutes of grilling, removing and setting them aside as they become tender. Carve meat and serve with the grilled vegetables.
Makes 8 to 10 servings.
Test Kitchen Tip: You may prepare this recipe using leg of lamb instead of a beef rib roast as part of a more authentic Moroccan feast. For a 3 to 4-pound leg of lamb, grill for 2 to 3 hours or until a meat thermometer registers 155 degree F for medium doneness.
Nutritional Information Per Serving (1/8 of recipe): calories: 228, total fat: 11g, saturated fat: 4g, monounsaturated fat: 5g, cholesterol: 68mg, sodium: 196mg, carbohydrate: 2g, total sugar: 0g, fiber: 1g, protein: 29g, vitamin C: 5%, calcium: 3%, iron: 16%
Recipe provided by Better Homes and Gardens - BHG.com a member of the Home and Family Network for the best of cooking, gardening, decorating and more. ©; 2003 Meredith Corporation. All Rights Reserved.