Pepper-Apricot Glazed Corned Beef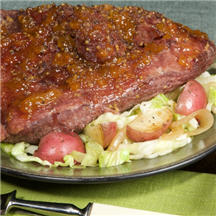 Boiled corned beef is brushed with a black pepper-apricot mixture and broiled until beautifully glazed.
Recipe Ingredients:
2 1/2 to 3 1/2-pound boneless corned beef brisket
Glaze:
1/4 cup apricot preserves
1 tablespoon red wine vinegar
1 clove garlic, minced
1/4 teaspoon coarse grind black pepper
Cooking Directions:
Place corned beef brisket in Dutch oven; add water to cover. Bring just to a simmer; do not boil. Cover tightly and simmer 2 1/2 to 3 1/2 hours or until fork-tender.
Combine glaze ingredients in 1-cup glass measure. Microwave on HIGH 2 to 3 minutes, stirring once.
Remove brisket from water; trim fat. Place on rack in broiler pan so surface of beef is 3 to 4-inches from heat. Brush top of brisket with glaze; broil 2 to 3 minutes or until glazed. Carve diagonally across the grain.
Makes 6 to 8 servings.
Recipe and photograph provided courtesy of the Beef Industry Council.