Poached Beef Tenderloin with Steamed Vegetables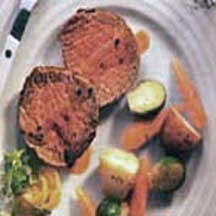 Poached beef tenderloin served with steamed vegetables tossed with lemon butter makes an elegant meal perfect for any special occasion dinner.
Recipe Ingredients:
1 (2 pound) beef tenderloin roast
1 tablespoon vegetable oil
4 cups water
1 (10.5-ounce) can condensed beef broth
1 cup dry red wine
2 cloves garlic, peeled and minced
1 teaspoon crushed dried marjoram
4 black peppercorns
3 whole cloves
12 ounces baby carrots, peeled
4 medium new potatoes, quartered
12 Brussels sprouts, halved
1 tablespoon butter or margarine, melted
1 tablespoon lemon juice
1/2 teaspoon salt
1/8 teaspoon ground black pepper
Cooking Directions:
Tie beef tenderloin roast with heavy string at 2-inch intervals.
In a Dutch oven or heavy stockpot, brown roast in oil over medium-high heat until all sides are browned. Pour off drippings.
Add water, broth, wine, garlic, marjoram, peppercorns and cloves. Bring to a boil; reduce heat to medium-low, cover and simmer 10 minutes per pound. Temperature should register 130°F. Do not overcook. Remove roast to serving platter. Cover tightly with plastic wrap or aluminum foil and let stand 10 minutes before carving.
Meanwhile, place carrots and potatoes in a steamer over 1 to 2-inches of boiling water. Cover and cook 6 minutes. Add Brussels sprouts; cover and continue cooking 5 to 7 minutes or until vegetables are tender.
Combine butter, lemon juice, salt and pepper. Toss with steamed vegetables.
Remove string from roast and carve into thin slices. Serve with vegetables.
Makes 8 servings.
Recipe and photograph provided courtesy of Beef Industry Council.