Roasted Sirloin with Maple Mustard Glaze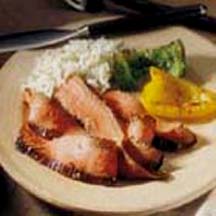 This roasted top sirloin steak, with a maple-mustard glaze, will easily be the centerpiece of a beautiful holiday party.
Recipe Ingredients:
3 pounds beef top sirloin steak, cut 2-inches thick
1/4 cup maple syrup
2 teaspoon cider vinegar
3 tablespoon coarse-grain Dijon mustard
1/4 teaspoon ground pepper
Cooking Directions:
Preheat oven to 350ºF (175ºC).
Place steak on rack in shallow roasting pan. Do not cover or add water.
Roast for 50 to 60 minutes or 16 to 20 minutes per pound. Remove when thermometer in center reads 135ºF (60ºC) for medium rare.
Meanwhile, combine maple syrup, cider vinegar, mustard and pepper in a glass measuring cup.
Microwave glaze on high for 3 1/2 to 5 minutes until thickened, stirring occasionally.
Brush glaze over top and sides of steaks.
Broil steaks 3 to 4-inches from heat for 4 to 5 minutes. Remove from oven and let stand 10 minutes.
Carve into thick slices.
Makes 8 servings.
Tips:
Whole tenderloin can be used in place of the sirloin.

This glaze is delicious on grilled steaks as well.
Recipe courtesy of The Beef Checkoff.