Shredded Beef Filling - Machaca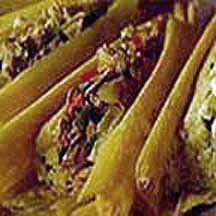 This recipe takes the work out of making machaca, which is a name for a savory dish made from dried beef which has been pounded to fine strands before being cooked in savory broth. Try adding some of this recipe the next time you make scrambled eggs; that's real machaca!
Recipe Ingredients:
2 quarts water
3 pounds boneless beef shoulder or chuck roast
1 small onion, peeled and quartered
2 tablespoons vegetable oil
1 small onion, peeled and chopped
1/2 cup chopped red or green bell pepper
1 cup ORTEGA Salsa - Homestyle Recipe
1/4 cup chopped fresh cilantro
1 tablespoon ORTEGA® Diced Jalapeños
Cooking Directions:
Combine water, beef and quartered onion in large stockpot. Bring to a boil. Reduce heat to medium-low; cook, covered, for 1 1/2 to 2 hours or until meat is very tender. Remove beef. Strain broth; reserve 1 cup for meat filling (remaining broth may be refrigerated or frozen for future use). Shred beef.
Heat vegetable oil in large skillet over medium-high heat. Add chopped onion and bell pepper; cook, stirring occasionally, for 2 to 3 minutes or until vegetables are tender. Add shredded meat, reserved broth, picante sauce, cilantro and jalapeños. Cook, stirring occasionally, for 4 to 5 minutes or until heated through.
Use filling in burritos, tacos, tamales or tostadas.
Makes 5 cups.
Recipe and photograph are the property of Nestlé® and Meals.com, used with permission.